Host your event at Unity Place in Milton Keynes
An outstanding, well-equipped venue and the support of a professional, friendly team are here to ensure your business event delivers an experience that exceeds expectations. Whether your event is an industry conference, glitzy awards ceremonies, black tie dinner, or a business get-together, our location, team, catering and venue bring together everything you need for success.  
Our friendly team will work with you to create an exciting event that suits your needs and budget, ensuring your meeting or event is seamless and memorable for all the right reasons.
Conferences, exhibitions, canapé receptions and more; we have the perfect space to unite your delegates in one place. 
Enquire now or scroll down to view our spaces.

The Auditorium
A modern, open and well-equipped event space with bench seating in a theatre style layout to seat up to 300 , the Auditorium is equipped with a large digital screen, full audio visual, and a raised stage area. It provides an exceptional venue for dynamic conferences, awards ceremonies and industry talks. High speed internet and state-of-the-art technology means you can engage your audience to get actively involved: ask questions, vote in polls and be a part of the discussion in real time.
The Auditorium can also be hired with one or all Event Spaces on Level 1, allowing you to take your event to the next level (literally!)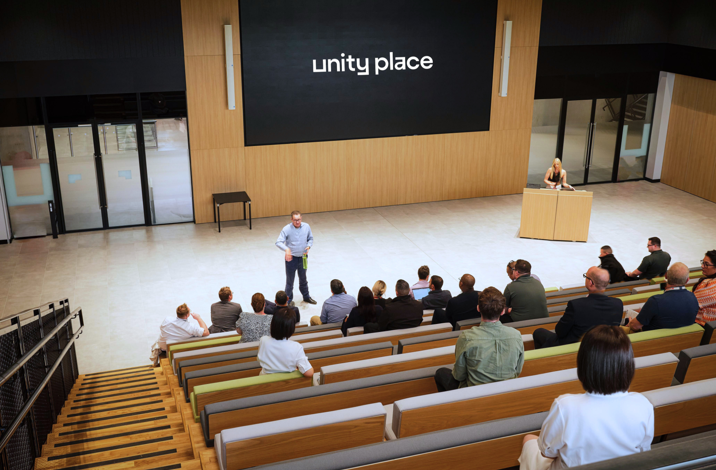 Event Spaces
Our stunning event spaces located on Level 1 above the Auditorium are modern, spacious and well equipped, bringing professionalism and the perfect ambiance to your event. Event Space 1 and Event Spaces 2 and 3 combined, have the capacity to accommodate up to 150 delegates in a variety of layouts enhanced with large digital screens. These spaces benefit from floor to ceiling windows flooding the room with natural daylight.
We offer competitively priced, flexible packages, that can include bespoke options to meet your needs. 
Get in touch with our event team to discuss your needs using the enquiry form or visit our Events Spaces page for further details.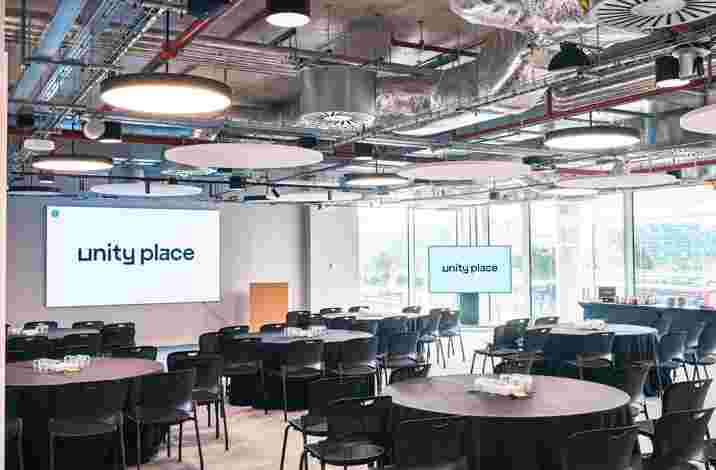 Community Hall
Our bookable Community Hall, is a vibrant and inclusive space where wellbeing, community engagement, and sustainability come together in harmony. Our mission at Unity Place is to enhance the lives of not only our working community but also the wider city landscape, by offering a diverse range of wellbeing opportunities and experiences.
 
With our Community Hall, we are dedicated to supporting local initiatives and fostering a strong sense of community. Our versatile venue is designed to host various social, environmental, and cultural programs, enabling us to empower local talents and promote positive change in our city.
 
Join us at Unity Place, where together we can create a thriving, connected, and sustainable future for all.
The space will soon be open for eligible community groups and charity organisations to book. Please register your interest on the Community Hall Enquiry Form. We will review your information and come back to you when booking opens.
Enquire about your next event
If you are planning for an upcoming event or just want to find out more information, send us an enquiry today and our events team will be in touch.