Contact form
Unity Place is destination for a few operations which all operate as separate businesses or departments within the building. Please select your area of contact to help us direct your enquiry. 
Our address:
Unity Place
200 Grafton Gate
Milton Keynes
MK9 1UP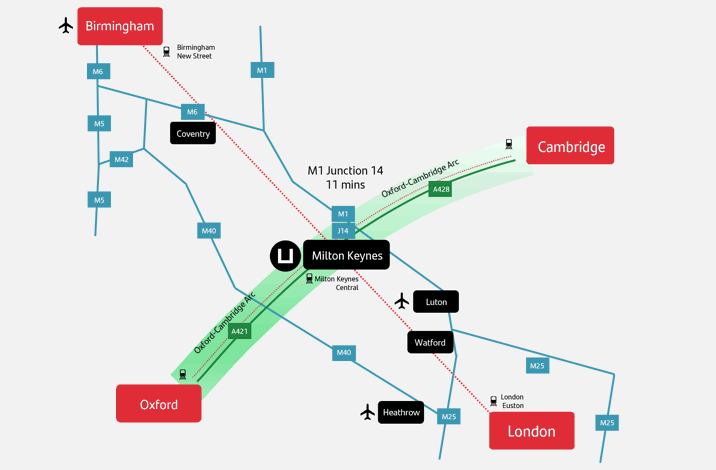 Travel information
Train from Milton Keynes Central Station 
Avanti West Coast - London, Manchester, Liverpool, Crewe

London Northwestern railway - London, Birmingham, Northampton, Manchester
A fast train from London Euston to Milton Keynes Central station is just 30 minutes. 
M1 J14, Unity Place is an 11-minute drive west from M1 Junction 14, located on the west side of Midsummer Boulevard in Centre Milton Keynes.

 
London Luton airport, travel is 26 miles (approx. 40-50 minutes) south on the M1.

London Heathrow airport, travel is 55 miles (approx. 1 hour 20 minutes) south on the M1 
Bus and Coachway Park & Ride 
Milton Keynes Coachway service is located just off M1 J14.

Arriva route 3 buses provide a fast and frequent connection to Central Milton Keynes, calling at Milton Keynes Central Railway Station (for Unity Place).
Buses pick up from Bay 8 at the Coachway – under the canopy on the far right as you cross over from the car park. 
Unity Place is less than 5 minutes north-west walk from MK Central Station.

It's about 10-minute walk west from The Hub and 15–20-minute walk west from the shopping centre.

 
Electric bike and scooter pick-up and drop off points are located on the east City entrance side of the building.