Wellness Suite
The Wellness Suite is located on the 7th floor and accessible to building users only.
The space itself includes a reception area, a conventional gym, dedicated class space and serviced consultation rooms. In addition, there is a terrace which adjoins onto a walking wellness track for use.
More information to come soon!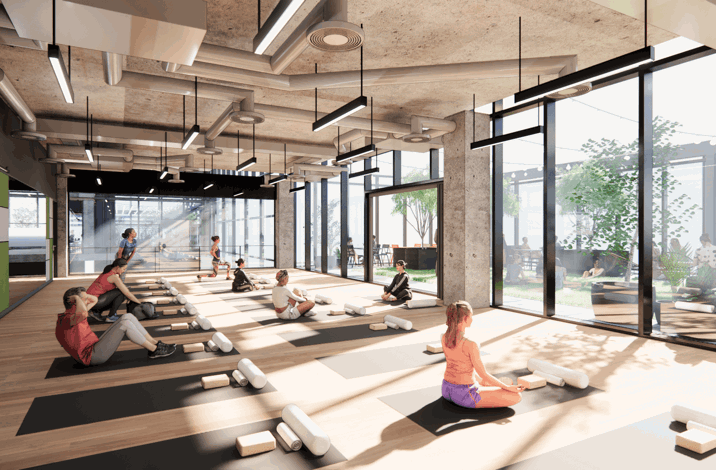 Our well-being 'Ways to be Well' is an evidence-based health and wellness programme that aims to demystify conflicting advice surrounding our physical and mental health with scientific fact; making it easy for people to understand what 'being well' really means. 
At Unity Place we promote a culture of positive eating and nurturing self-care through our fitness spaces and catering menus rich in whole foods, seasonal vegetables and fresh fruit. We have a plant-forward philosophy, alongside sustainably sourced meat, fish and dairy and healthy snacks. We also support getting active, with superb facilities that include a Wellbeing suite (for building users) and support for active travel in Milton Keynes.

Sustainable travel
At Unity Place we support Milton Keynes Council's 'Get Around MK' initiative to promote sustainable travel for our city that's smarter, healthier, and greener. We are within 200m of Milton Keynes Central train station, we have secured cycle parking and electric vehicle charging points for building users. 
Active travel includes walking, running and cycling. Milton Keynes has over 200 miles of shared-use paths, known as Redways. This traffic-free network covers most of the city estates with some Redways extending out to connect to the older towns. A network of 13 Redway Super Routes closely follows the grid roads across the city centre creating direct routes for cycle commuters. 
Bring your own bicycle to Unity Place, or hire a Santander cycle by registering online with the Nextbike app. Then it's as easy as tapping your smartphone at a dock to get cycling.
Contact us
If you have any enquiries, fill in the form below and we'll get back to you as soon as possible.